1964 Chevrolet Super Nova show car.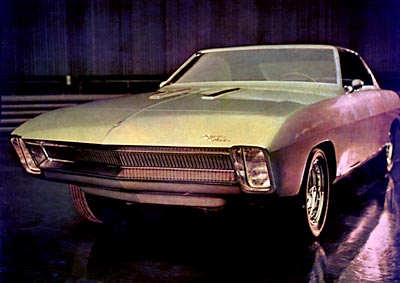 A New shape for the Chevy II
THE IDEA CAR has become a tradition with American automakers as a place to try out advanced and different styling concepts, component designs, and control refinements. Should such a dream puff excite public interest in the current vehicle which serves as its basis, so much the better. Chevrolet has unveiled its latest, built around the sturdy Chevy II, which it calls the Super Nova. Its fiberglass body, finished in "fire frost" silver, has a sloping 7.5-in extension of the hood and a bobbed tail on the same 11O-in. wheelbase. The casual observer might see a hint of Riviera from the side. Normal door handles, both inside and out, have been eliminated from the car by putting an electric solenoid switch flush with the chrome window molding on each door. The windshield has a 60" rake and curved side glass extends to the pillar, eliminating vent windows. Minimum trim consisting of a rocker panel strip and different wheel covers and tires are used. Beneath the drooping snoot is a finely tooled grill, deeply recessed into a crisp well of bright metal. A pair of rectangular headlights, mounted vertically, flank the grill opening and are integrated into the surrounding casting, which serves in place of a bumper. Three large dials, fitted in individual pods hanging under the dash lip, are the only instruments before the driver. In addition to the 160-mph speedometer and 8000-rpm recording tachometer, there is a novel "Elometer" (elapsed time meter, n seconds). All other instruments and radio are lined up down the central panel from dash to console, with all window lift and other control switches aligned along the latter. Dual turn signal levers are installed behind the custom steering wheel, but are designed to turn with the wheel so as to always remain hidden behind the wheel spokes. The all-black interior is trimmed in a combination of leather, vinyl and polyurethane. At the rear, the stylists have come up with an awkward combination of styling clichés. The recessed rear window is an attempted adaptation from Porsche and Ferrari racing cars, the four rear lights are buried under the deck lip in separate holes and exhaust pipe tips form sides of the license plate cover. In all, it's an interesting version of a fastback snowplow. Car Life, July 1964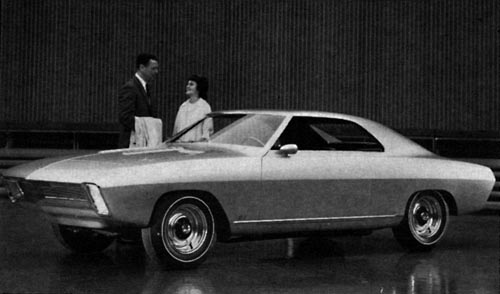 Show car is thought by some to look like a baby riviera, possibly a hint at what Chevrolet has up
its sleeve to counteract Mustang boom.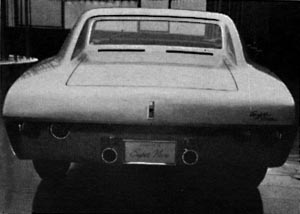 Rear window is recessed inside pillars; vents under window remove cockpit air.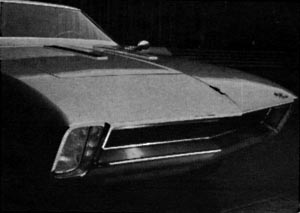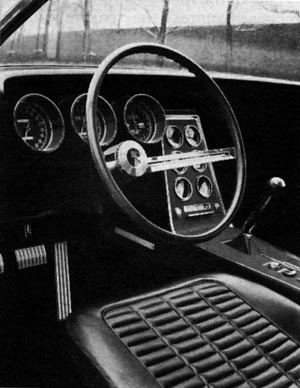 All black interior has everything but three dials removed from dash.