Simply put, dendrochronology is the dating of past events (climatic changes) through study of tree ring growth. Botanists, foresters and archaeologists began using this technique during the early part of the 20th century. Discovered by A.E. Douglass from the University of Arizona, who noted that the wide rings of certain species of trees were produced during wet years and, inversely, narrow rings during dry seasons.
Each year a tree adds a layer of wood to its trunk and branches thus creating the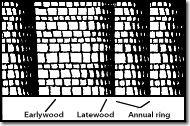 annual rings we see when viewing a cross section. New wood grows from the cambium layer between the old wood and the bark. In the spring, when moisture is plentiful, the tree devotes its energy to producing new growth cells. These first new cells are large, but as the summer progresses their size decreases until, in the fall, growth stops and cells die, with no new growth appearing until the next spring. The contrast between these smaller old cells and next year's larger new cells is enough to establish a ring, thus making counting possible.