News
Radio
New Reviews
Review Archives
Links
Best of FTB
About FTB
This band has a very sophisticated sound that subtlety straddles the area between rock and country. Although they are quick to tell you that they are not an Alt-Country band, the influences are definitely there. They remind me of Dire Straits, Uncle Tupelo or even R.E.M. at times. They can rock out tastefully and then bring it down to a soft whisper. Lead vocalist Mack Linebaugh has a good voice, nothing special, but he knows how to use it within his abilities. His songs are dense little stories that are not easy to understand at first. This is the kind of CD who's brilliance kinda grows on you. After 4 of 5 listenings, I started wondering why more people don't know about these guys. Farmer Not So John are not so bad, in fact they're a superb band, who have a deep maturity for only a 2nd CD release.
Best cuts: Paperthin, Consigned To Oblivion, Rise Above The Wreckage, Undertow.
Compass Records
site, has bios, tour info, etc. Released May, '98. Reviewed by
Bill Frater
.
---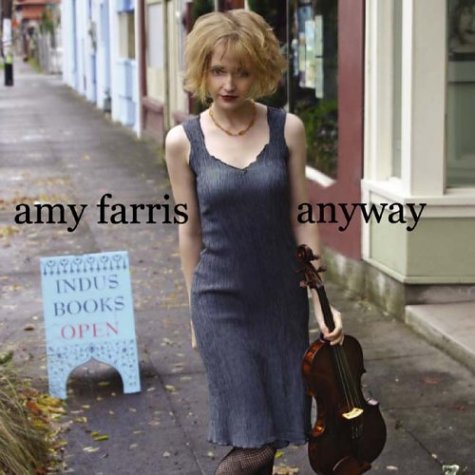 AMY FARRIS


Anyway… (Yep Roc)
This music reviewing stuff is not as easy as it looks. It's especially difficult when you're looking forward to liking a CD from someone who you already know something about. Such is the case with trying to review the debut CD from Austin's Amy Farris. Her harmonies and fiddle work has shown up on CD's like Bruce Robison, Kelly Willis and The Derailers. Her voice, even with ample reverb, is thin and unimpressive. What makes it even more challenging is the fact that the great Dave Alvin produced and co-wrote many of the tunes. His band, the Guilty Men, provide their usual outstanding session work. Save for a couple of nice acoustic swing tunes, I'm not knocked out by Amy's CD, and I'm not happy to say it either!
Amy's site is nice. Buy from amazon. Released May, '04. Reviewed by Bill Frater.
---

THE FAULTS

The Faults... (Lynn Point)
While worshipped by the alt.country faithful, as far as mainstream knowledge goes, most people know groundbreaking band Uncle Tupelo more for the split that resulted in Wilco and Son Volt than anything they did themselves. The same may be said about the V-Roys when all is said and done. The band managed to release two great studio discs and one posthumous live CD before splintering into two bands, Scott Miller & The Commonwealth and this band, featuring V-Roys co-leader Mic Harrison. Both bands, to me anyway, already seem to be putting out better music than the V-Roys did, as much as I loved that band. While Miller's CD is more grassroots country, this CD by The Faults is about as power pop as a former country artist can probably get. Cool melodies and poppy twists abound, all the while retaining the Stones-y grit that occasionally recalls Harrison's former band. A cross between Matthew Sweet and Terry Anderson is the closest comparison I can get. Besides, I'm too busy listening to this to worry about it! Pick this up!!
Check out TheFaults.com for tour info and MP3 song samples, or LynnPoint.com to order the CD. Released April. 2001. Reviewed by Scott Homewood .
---
ARLAN FEILES


Razing A Nation 'The Ballad of a New Lone Ranger'... (Y&T)
This is one interesting and intriguing bit of Americana, folks. It has taken over a month of listening to get a good handle on it. At first spin, the opening track, "The New Lone Ranger", immediately brings to mind the Eagles' classic, "Desperado", with its theme of the losing and lonesome anti-hero, and the Civil War-era impression continues into "Sign Up", a sardonic call to arms. Further listening, however, brings one to the realization that this recording can not be defined and confined to any one particular historical epoch. Produced in Miami in 2004, Razing A Nation is one of those timeless works that defies any temporal categorization in its universality. Not too shabby for a 'debut' album. Closely comparable to Springsteen's Nebraska, it is a sparse and haunting showcase for both the intelligence and perspicacity of Feiles' lyrics, and his musical versatility. He plays all of the instruments here, guitar, harmonica, and piano, with his only outside assistance being the wonderful voice of Shannon McNally, on "Drifted Town", and "Change". Any dud tracks herein? Nope, nary a one; they'll all move you.
Arlan's site. Buy from amazon Released Jan. '04, reviewed by Don Grant.
---
Yet another great Austin band that has a amusing sound and aren't strangers to either Lefty Frizzell or the Minutemen. The sound features the quirky country harmonies of Shelly Leuzinger and Eric Roach and the occasional rockin' guitar and banjo of Tim Ziegler. They recorded an earlier CD under the name of The Fence Sitters, but discovered another band of the same name. What's I find refreshing is the fact that they don't sound like they're trying to jump on the "Alt.Country bandwagon", (whatever that is and wherever it's going). Like Southern Culture On The Skids or the Bad Livers... they're just having fun!
Best tunes: Bring Back My Radio, Lonesome and Low, Cannon Ball, El Paso, Way Out West. Released March '99, reviewed by
Bill Frater
.
---
I like the term Americana for this record. It covers a lot of ground stylistically yet manages to sound quite fresh and cohesive be it rockin, croonin' or doing straight ahead country. Anna Fermin has a strong, friendly voice that reaches out to the listener to enjoy the music she has written, which is very good. Her band brings the same solid energy to the music with the resulting sound carrying you from song to song right thru the CD. As if that weren't enough to take to the bank, the golden touch of Lloyd Maines can be heard in the quality production as well as the addition of his tasteful pedal steel. Anna Fermin's Trigger Gospel is a true jewel in the American crown. Check it out.
The band has their own site, TriggerGospel.com, where you can order the CD, and get tour and bio info. You can also get the CD from Miles of Music. Released late 1999, reviewed by Kay Clements.
---

RICHARD FERREIRA

Somewhereville... (Miranda)

From the interesting mix of Memphis soul grooves and solid country sounds on this album, Somewhereville must be one hell of a place. Sign me up for a trip there pronto. And when you hear this CD by Ferreira, you'll want to go there with me. Although Ferreira only writes two of the CD's nine songs by himself (choosing instead to have solid country songwriters like Angelo and Gwil Owen assisting) he unequivocally supplies this CD's spirit and personality. The Memphis groove thang seems to be popping up in country music related circles much more than in the recent past and I wonder if it signals a moving on from the Bakersfield and '50's style country that used to be most prevalent. I've always felt a mix of Al Green and George Jones would be great, and both are Americana as hell, so I don't see anything wrong with Ferreira giving us his special mix of both styles. This is cool, mature country with some solid soul. I love it.
Order from Miles Of Music or CD Baby. Reviewed by Scott Homewood
---
Firewood Revival is loose confederation of musicians based in the Iowa City area. Lots of players here, ten, if I'm not mistaken from the sleeve photo, and, that number has been higher by several over the years. Apparently, it's one of those bands whose members come and go: if someone's in town, they join in, sort of like the Ozark Mountain Daredevils holding a family reunion. One thing about a band with "a cast of thousands" is that, with that many instrumentalists, there aren't too many musical avenues they can't stroll down. This, their fourth release, is a 'best of' compilation, a fan's choice selection from their original earlier work, and it runs all over the map, from country rock, "Freedom of Moving", deep South hillbilly twang, "Great Divide", to the urban country of "Elevator Man". Unfortunately, the dearth of liner notes precludes giving any credit to the individual players, but I guess that a multi-celled organism like FWR is more the sum of its parts than the efforts of its individuals.
Firewood Revival website. Rock Is Dead Records. Order from CD Baby. Released June, '04, reviewed by Don Grant.
---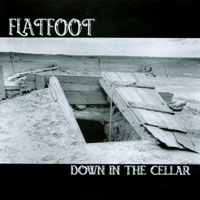 FLATFOOT

Down In The Cellar... (Flatfoot)
Flatfoot's Down In The Cellar is the story of every band trying to make it to that next level. Since they come from the working class city of East Lansing, MI, they probably realize and accept that success take time and hard work. Bluesy roots rock with a few twangy shadings is what they sound like. Actually, if they sound like anyone, and this is going to sound weird, they sound like a really rough version of the Black Keys. With nice songwriting, and good musicianship, this rough-hewn CD definitely shows that they are off to a good start. Notable highlights include the swampy, slide-guitar driven "Bottle For The Baby", and the sad coal mining story of "Buffalo Creek". The last song on the CD, "Granddaddy", with its end of life prayer makes the CD well worth ordering just by itself.
The band's site. Order from CD Baby. Released June, '03. Reviewed by Clint Weathers.
---
Not to be confused with Greg Trooper's old band, this Flatirons comes from Portland, Oregon and for a first release, they sound like they've been playing together for awhile. Lead singer Wendy Pate has a strong voice that makes me think of Martha Davis from The Motels more then Patsy Cline, not much "country" to her voice. Jason Okamota is very talented guitar-slinger who tastefully weaves twang and slinky surf shadings into each song. Just about everybody in the band writes a song or two, some with greater success then others. My only complaint is the album tends to drag a little, sometimes they even sound as slow as the Cowboy Junkies.
Best songs: Heaven Help You, Wildfire, So Lonesome, High Lonesome Moon, Hearts on Fire, Crazy Train. Check out Checkered Past's Flatirons pages. Released Feb, '99, reviewed by BillFrater.
---

THE FLATLANDERS


Now Again... (New West)

Country's most-talked-about, coulda-been-the-greatest super group has finally found time to reunite for their thirty year anniversary and release their first (yeah, that's right, first) ever official album. Yes, you heard me right! Joe Ely, Jimmie Dale Gilmore and Butch Hancock have set their solo careers on hold for a little while to get back and clean up some unfinished business. Back in the early '70's, the Flatlanders were on the verge of turning the country music world on it's head but all three of these talented guys just went their separate ways after some internal problems and always talked about reuniting but never got around to it until now. Sure, fans of their unreleased music that made the rounds due to bootleggers have begged for a reunion and there was even a very posthumous live album released a few years ago. But, finally, the guys made a point to do this thing right and even tour. Let me be the first to tell you that it was worth the wait. All songs are written by various permutations of the three except for the opener, "Going Away", which was written by Utah Phillips. Just to listen to the excellent ebb and flow of this music makes one a little bittersweet for the music these guys could have made if they would have stayed together. No mater, each has made solo music that has transcended genre and style and each will end up dying a legend in the world of music. Right now, enjoy this wonderful new/old band live, because, wonder of wonders, they're actually gonna tour this thing around the country this year. Miss it and miss an important part of music history. But get this album first. You won't be sorry.
New West's website. Buy from amazon. Released May, 2002. Reviewed by Scott Homewood .
---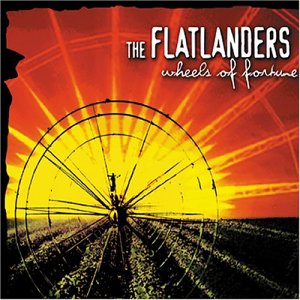 THE FLATLANDERS

Wheels of Fortune… (New West)
Well, the story goes that 30 some-odd years ago The Flatlanders recorded an album that was eventually released under the title More A Legend Than A Band. So now they put the second CD in 3 years and they seem to be having a good time and are committed to this more than say Blind Faith or Little Village. They sound relaxed and at ease, no egos, no trying to be the next big thing. These guys have been around too long to fall for that. They almost seem to laid back here and there. I'd say there are a few throwaway songs here and a few that have been recorded before on one of their earlier solo albums. Then again there are also some truly great songs, especially "See The Way" on which they each take a verse, beautiful song… great imagery. Too bad it's somewhat buried at the end of the CD. In these busy times, few of us have the patience to sit through 14 tracks. Sad but true. All the major Ameriacna food groups are represented- country, blues, folk and rock. Although songwise, I liked their last CD a little better, The Flatlanders are certainly now more a band than a legend.
The Flatlanders site has tour info and swag.. Buy from amazon. Released Jan, '04, reviewed by Bill Frater.
---
Unless the subject of discussion is cover bands, or, God forbid, karaoke, describing artists as rebels is a bit redundant. All artists are rebels in their own fashion, otherwise they'd be working for IBM or GM. A lot of the hyperbole that accompanied this CD was/is unnecessary, and the word crusade makes me gun-shy; let the music do the talking. A former punk-rocker, (that rebel thing), Flatt is finding her niche in this, her second outing, writing and performing songs that plumb the well of her own existence and experience, in a fashion that's both melodic, (this voice sang punk??!?), and insightful. This young Texan is at her best with introspective tunes like the title track, "Walk With Kings", "Cold Day", and "I Can't Love You", and when she thrusts her pen at topics political, "Sign Up Here", "Came Back Broken", she as if she could be the little sister of another Tejano reviewed on this site a few weeks back. If I might offer a word of caution here, it's OK, and laudable, to try and change the world; just don't try to do it all at once. Hone your craft first, Chrissy; artistic credibility is a prerequisite for socio/political credibility; just ask Steve Earle.
Chrissy's website has some song samples and CD ordering . Released Sept. '04, reviewed by Don Grant.
---

JOE FLOOD


Cripplin' Crutch... (Diesel Only)
Let me say off the bat that I am a huge fan of whatever Eric 'Roscoe' Ambel does musically. The fact that he produces and plays on this CD made me just about rip the shrink wrap off of this thing as soon as it arrived. What can I say? Ambel simply has the best taste in the business and picks the best artists to work with! Flood's album is a triumph for both of them. Never having heard of Flood before, I listened with anticipation and was rewarded with some of the best gritty country music I have heard in quite a while. Flood's voice reminds me of the soulfulness and casual-sounding confidence of Tony Joe White (of 'Polk Salad Annie' fame) while his music reminds me of Robert Earl Keen if he were a trucker and a bit more rougher around the edges. Flood wields a variety of stringed instruments and experiments with his sound a little as half this album was recorded live to 2-track while the other half was done full-studio style. While I like the more polished studio stuff better, this album as a whole just knocked my socks off. For those new to Flood, I guarantee this CD is going to become a favorite!
Diesel Only Records has a nice website with MP3's of 2 of Joe's songs. Released June, 2001. Reviewed by Scott Homewood .
---

ROSIE FLORES

Speed Of Sound... (Eminent)
Speed of Sound is Rosie Flores' seventh solo release and her first on the Eminent label. This follow up to 1999's critically acclaimed Dance Hall Dreams, pairs Flores with producer/writer/guitar virtuoso Rick Vito creating a guitar heavy, somewhat neurotic collection of hillbilly and jazz standards laced with a few modern rockabilly tracks. Producer Rick Vito is best known for his previous guitar work with blues pioneer Bonnie Raitt, Jackson Browne, and post-Lindsey Buckingham Fleetwood Mac. Speed of Sound opens with Vito breathing new life into the Davis Sisters' "Rock-A-Bye Boogie", and the Buck Owens classic "Hot Dog" with his James Burton-esque in-your-face guitar work. The mood swings dramatically to a smooth jazz smoky lounge with Rosie taking center stage on the lesser known Billie Holiday gem "I Don't Know If I'm Coming Or Going". The title track with an airy southern gothic presence, refers to Speed of Sound as a "resolution of my past and present". All in all, with Speed of Sound delivers a deli platter of performances highlighting Vito's well groomed solos, and Flores' softer jazz influences, while including a few new songs to the roster for balance.
Eminent Record's website. Released May, 2001, reviewed by Matt Reasor.
---

DANNY FLOWERS

Forbidden Fruits And Vegetables... (Groovetone.com)
Danny Flowers is a Memphis-style lead guitarist who has been hiding in relative obscurity on the credit pages of many other artist's albums. Eric Clapton is a big fan and supporter and recorded Flower's "Tulsa Time" which is included here. At times, when Flowers gets to shouting, his voice sounds so much like like Etta James, that it's scary. The arrangements are southern rock and R&B, along the lines of Delbert McClinton or good ol' Delaney & Bonnie. Great soulful stuff!
Release date Sept. 12th. Info, song samples and ordering info at Groovetone.com.
---

JOHN FLYNN

Dragon... (self released)
John Flynn has certainly bitten himself off a mouthful with this release. Addressing a wide range of social issues, including corporate corruption, the death penalty, the despair and desperation of inner-city life, and some really silly, yet fun, stuff, i.e. a dress code for statues, Flynn ends up literally overwhelming the listener. I'm not saying that the world couldn't do with a little changing, and I don't doubt his sincerity, but, geez John, all in one CD? Talk about sensory overload! There are some good relevant nuggets here, such as "Minnie Lou", the statue song, and, in today's geo-political environment, "Not with My Jesus", a song about how religions get hijacked for secular ulterior motives. (Someone once said that religion is like baseball: great game, lousy owners). Unfortunately, the overall air of apprehension inherent in this offering tends to negate its redeeming qualities. A well-intentioned message suffers from overkill, in this instance.
John's website has PayPal CD ordering. Reviewed by Don Grant.
---
Gary Floyd was the lead singer in the San Francisco alt.rock band Sister Double Happiness, but don't let that scare you. He is a great soulful, emotive singer with a gritty voice. This CD collects the best tracks from four previously released European CD's, where he is much more popular than in his native US. This is a fine mix of country and blues, both originals and some standards. What's impressive is how easily he melds the two styles, backed mostly by acoustic instruments. His original tunes have a sometimes spiritual bent to them. It all makes for a long, but quite wonderful album.
Best tracks: Spirit On The Wind, Don't Send Me Away, Can't Be Satisfied, Won't Be So Sad, Wayfaring Stranger, More Than A Lifetime, Can't Do That. Check out Innerstate's site. Released Jan, '99, reviewed by Bill Frater.
---
Although I love John Fogerty, and his contribution to American Roots music is unparalleled, I was not knocked out by his new CD at first. Maybe I expected too much, considering his history, and all the time he reportedly spent perfecting Blue Moon Swamp, it was too perfect maybe. Fogerty's grasp of the simplicity of his songs threw me off. This album brilliance is it's simplicity, not to mention his still-incredible voice and his fine production. Yes, Fogerty still has it, and in fact, I think he finally understands how important his contribution to music is, and it has given him the confidence to do what he does best, and throws all the various "roots" together for one fine CD. It was worth the wait!
---

BLAZE FOLEY

Live at the Austin Outhouse... (Lost Art)
Blaze Foley, a drunken, homeless troubadour, was legend to a small group of people around Austin before he was murdered at the age of 39. He was the subject of Lucinda Williams' "Drunken Angel", Townes Van Zandt's "Blaze's Blues" and Merle Haggard and Willie Nelson covered his beautiful "If I Could Only Fly". His songs are spare, finger-picked and frequently brilliant in their simplicity. and he sings his his blues-based songs with an easy-going confidence, reminding me the of the Venice Beach street singer, Ted Hawkins. Made in 1989, just before his death and recorded at the only place in Austin that would still book him. There is a timeless feel to this record, as if Foley knew his time was short.
Check out BlazeFoley.com, they have a link for ordering the CD thru songs.com. Released Nov, '99, reviewed by Bill Frater.
---
BLAZE FOLEY
Oval Room ... (Lost Art)
Blaze Foley was a legendary Austin songwriter, often covered but seldom heard. Usually homeless, clothes held together by duct tape (apparently by choice), his life was cut short by gun violence in 1989. This disc is a live recording with some studio over dubbing supervised by his good friend producer Gurf Morlix. It's an arresting set of songs, ranging from the personal/political to ironic novelty. With an appealing country blues style of guitar picking and straight ahead vocals, this offering is by turns heartfelt and humorous. When songwriters like Townes Van Zandt and Lucinda Williams write songs about you, you know you've made a mark, and outstanding tunes such as Cold Cold World and My Reasons Why serve his legacy well. Other highlights include the Ronald Reagan inspired title cut and the all too appropriate "WW III"
Lost Art Records has CD ordering or get it from our friends at Miles of Music. Released Oct. '04, reviewed by Michael Meehan.
---
I immediately garnered a liking to this band when I heard that singer/songwriter Ryan Adams was interested in producing their next album. They evidently tore things up in Austin, Texas at this year's SXSW Festival and caught a lot of people's attention. I encouraged myself to pick up the album. It was well worth it. Forever Goldrush
captures a sound on their new album that glows with a sense of the "New West". All four band members grew up together in the heart of the old gold rush country and their music flows at times like the rugged mountain landscape, and other times it mystically unfolds with an eclectic rural sound. Their influences run deep, and their musical spirit soars high on this powerful collection of songs. Working with musicians like Ryan Adams in the near future will only serve to heighten their artistry and sound production
.
The band's web pages. Released Nov, 2000, reviewed by Doug Waterman
---
This Sacramento, CA band has done their Alt.Country homework and and they pass with flying colors. Lead singer Damon Wyckoff at times sounds like Eddie Vedder but his lyrics frequently refer to Old West themes much like the songwriting of Robert Hunter. If you don't know either of those references, you're probably better off. Suffice to say that this is good, melodic and sometimes raucous music that grows on you if you give it a chance.
---
Mark Fosson is another easterner, (Kentucky), who went west in search of a record label, thirty some odd years ago. It has taken a bit of time, (understatement), but, as granny used to say, good things are worth waiting for. There are echoes of John Prine, and even Gordon Lightfoot, in "Wrap Me Up", in the thirteen songs that comprise this, his debut CD. Fosson wrote all of the songs herein, and plays a variety of stringed instruments, along with harmonica and spoons. Long-time collaborator Edward Tree handles the other guitars, and a collection of lesser known, but well-traveled and not unskilled, L.A. musicians round out his band. The end product is a folksy country sort of blues that weathers repeated spins on the changer very well. He's a singer/songwriter who's work stands up there with the best of them, and it had better not take another thirty years for the follow-up, because some of us might not be around to catch it.
Fosson's site.Order from CD Baby Released 2005, reviewed by Don Grant.
---
RADNEY FOSTER

Another Way To Go... (Dualtone)
Radney Foster is country music's Bruce Springsteen. He is, by turns, a romantic balladeer, a storyteller and an all out rocker. While this new record tends toward more of a rock feel than a strictly country sound, it still has more country soul than 90% of what passes for country music on the radio. His last record (Are you Ready for the Big Show?) was a high water mark and this new CD falls short of that but is nevertheless a fine record. While there's plenty on this record that rocks at the center of it all is country music's most enduring theme of human relationships. Love, in it's many forms and frustrations, gets Foster's, and therefore our, attention. He's a passionate writer and one of the best working in country music. As an aside, that a crap performer like Toby Keith can get his post 9/11 false bravado music played on country music radio and a song like "Everyday Angel" from this new CD, that celebrates what's good and decent in all of us, can't get played illustrates precisely what's wrong with Nashville.
RadneyFoster.com Buy from amazon Released Sept. 2002. Reviewed by Kevin Russell.
---

RADNEY FOSTER


Are You Ready For The Big Show?... (DualTone)
Few contemporary country artists deliver a live performance distinctively unique from the formulaic recordings processed by Music Row; one artist who does this is Radney Foster. Are You Ready For The Big Show? takes various live performances from September 2000 at the Continental Club in Austin, Texas, of Fosters' new material as well as his standards. The album captures the basic artistry of Radney Fosters' songwriting repertoire as well as a back porch jam session featuring mandolin protégé, Chris Thiel (Nickel Creek), and Nashville's best kept secret, guitarist Mike McAdam (Steve Earle, Mary Chapin Carpenter, Jack Ingram). For fans of Fosters' earlier solo work, this one includes a Cajun rearrangement of "Just Call Me Lonesome", and a slimmed down acoustic version of "Nobody Wins" ( both from Del Rio, Texas, 1959). The albums single is the unearthed Foster and Lloyd classic, "Texas in 1880", (unlisted as hidden track 16). Radney has returned full circle to his neo-traditionalist roots, which separated him from the droves of aspiring Nashville singer-songwriters early in his career.
Check out DualTone or Pure Spunk. Released June, 2001, reviewed by Matt Reasor.
---
Third time pays for all, they say, and with Ghost Repeater it's a payback in spades. Having listened to Wisconsin native Foucault's music evolve over five years and two earlier CDs, I can say without reservation that this man consistently hits the nails of contemporary North American culture squarely on their deserving little heads. This time around, he employs a full band of very competent musicians, (bonus: Kris Delmhorst appears), and has tagged up with Bo Ramsey, who is not only a fine producer, but one hell of a good guitar player, to boot. The songs are stark and pensive against wonderfully melodic lines that fit Foucault's voice like a well-tailored glove. There's just the right amount of "stuff" on the tracks of this disc, nothing to excess, unless it is possible to have an excessive amount of excellent writing, such as:
"She whispered close, Can't you hear the ocean?
As she leaned her ear against a shotgun shell";
or:
"The wages of sin don't adjust for inflation
It's a buyer's market when you sell your soul"
Those little gems are only from the first and title cut, and there's ten more tracks, plus a five track bonus disc. How can you not love a guy who can come up with lines like that?
Jeffrey's website. Buy from amazon Released May 23, 2006, reviewed by Don Grant.
---

FOUNDRY

World Rattles 'Round... (Hollow Body)

Foundry is mostly a labor of love of lead singer Doug Kwartler. He not only wrote and produced everything but he sings and plays a huge assortment of instruments, and fortunately, he has a lot of talent. His voice reminds me a little of Son Volt's Jay Farrar and his songs are full of rootsy hooks and ripe with social commentary. Two songs, "Main Street's Shut Down" and America Uncovered" are especially topical and really hit home. The five-piece band, (they're from Long Island), has a cohesive and tight sound, they probably smoke in a live setting. Their sound ranges from soft acoustic pieces to jaunty Tom Petty-ish rockers with layers of chiming guitars. Mark Spencer, from Blood Oranges adds some stellar lap steel guitar. The production is top notch and I have to say this is a very impressive debut CD and the best independent release I've heard this so far year.
Order the CD from CD Baby The bands site has tour info, song samples and even a music video. Released April, '01, reviewed by Bill Frater
---
BOB FRANK & JOHN MURRY

World Without End... (Bowstring)
This is a record you listen to on a windy night when, mysteriously, the video store closed early. You were thinking of renting Blood Simple. Bob Frank and John Murry have created an eerie and powerful album of ten newly-written murder ballads. What is original about World Without End is that the songs are inspired by true stories from the shadowlands of America's past. "Lead me down, boys, I'm hangin' today. Drop the trap door, I got nothin' to say," growls the chorus to Boss Weatherford 1933 . The recording is at once spare-sounding and dense. So much is left out that you have to add some of your own nightmares to the story, and just enough is left in that you're aided and abetted in the process. A room grows awfully quiet when one man says what's true. There have been five or six records out this year that have struck me as true originals, and this is one of them. As for why the video store closed early, after listening to Frank and Murry's record, I fear the worst.
Their website, and My Space.
Order from CD Baby. Reviewed by Doug Lang.
---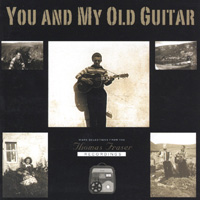 THOMAS FRASER

You and My Old Guitar... (Nel Music)
Fraser was a fisherman from Burra Isle, Shetland with an unusually expressive voice and a skill for playing guitar and fiddle. In 1953 he acquired the first reel-to reel tape machine on the Isle and with his passions for country, blues, traditional and jazz tunes, proceeded over the next 25 years to record thousands of songs. Eschewing public performances, he recorded prodigiously and you can hear in these recordings the love of the music, the passion for singing and the pleasure that Fraser received from playing, clearly resonating with the music.. If you didn't know better, you'd swear that Fraser hailed from the Dust Bowl instead of the Shetland Islands. This is the second in the Thomas Fraser recordings and a treasure trove of songs from a shy but talented man and his guitar. [Yodel alert!! This CD features world class yodeling.]
Thomas Fraser Webpages. Order from CD Baby. Reviewed by Kay Clements.
---
Well, believe it or not, Freakwater have come slightly uptown. They still have the lazy, off-kilter (and sometimes off-key) female harmonies, but now they have added drums and a string section on some of the songs. It took a few listens to get into this one, but their unique country and folk songs eventually were what won me over. Their earlier albums featured old cover tunes mixed with Catherine Irwin's originals. This one, their 5th I think, is all original and features more songs and lead vocals from the other vocalist, Janet Beverage Bean. They're still pretty quirky and understated, and still have a fondness for ballads. I think they're made a small step towards commercial viability but there's still, thank God, a long way from Nashville.
Check Thrill Jockey's site. Released Sept, '99, reviewed by Bill Frater.
---
Freakwater are a group of young, progressive musicians who brilliantly "channel" the sound and style of early country artists like The Carter Family or Hazel & Alice. Their old-timey-folk sound is led by the haunting harmonies of Catherine Ann Irwin and Janet Beveridge Bean, who also probably write most of the songs. The songs have a timeless quality and cover simple subjects. There's a live sound to the recording that is relaxed and comfortable. On this, their fourth CD, I think, they've been fortunate to have ex-Wilco member Max Johnston adding his multi-instrument talents to the band. These guys are seriously about this music, this is not a tribute or a put-on. They are not only preserving a special style, but they are also carrying it into the next century. Highly recommended for folk and traditional country fans.
Best tracks: Picture in My Mind, Twisted Wire, One Big Union, Heaven. Released Jan, '98. Reviewed by
Bill Frater
.
---
It used to be not many people were buying Bill Monroe, Muddy Waters, Norman Blake, The Replacements records and loving all of them equally. It seems like nowadays theres lots of young people who are not only musically open-minded, but they play guitars and banjos too. This is a good thing and I support any band that wears such diverse influences on their shoulders. These guys hail from rural Pennsylvania and play mostly acoustic instruments and cite the above artists and others as their heroes. Once and awhile they cut loose and rock out a little more, but most of the time they roll along at a gentle pace. Original tunes, nice melodies, and a sense of humor.
Released in '98, reviewed by Bill Frater. Miles of Music has the CD, e-mail or call them for info. The band has a nice website, frogholler.com
---
This band from rural Pennsylvania has a professional, easy style. Some spare banjo and fiddle shadings give them a sort of modern old-timey sound. Singer/songwriter Darren Schlappich has a good voice that sounds alot like Son Volt's Jay Farrar. Their credits page says "The Song is King" and I couldn't agree more. These guys have improved quite a bit since their first CD, in no small part because they have paid special attention to the songwriting craft. Give 'em a spin.
The band has a nice website, frogholler.com. Released Oct. '99, reviewed by Bill Frater.
---
---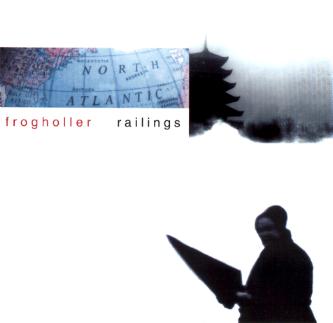 FROG HOLLER

Railings... (Record Cellar)
Frog Holler is to Americana as Bruce Springsteen and John Mellencamp are to rock n' roll. Their inspiration is found in the Northeastern Rustbelt, in the smaller towns and the countryside, far removed from the urban elite, and they do a fine job of evoking that experience. Hailing from Berks County, PA. they formed as a bluegrass trio originally. The band has now expanded its roster to six, and added electric instrumentation. These changes give the band a variety and depth that the original configuration lacked. This is music that tells stories, without moralizing the listener into a depression.
Frog Holler's web site. Order from CD Baby. Released Oct. '03, reviewed by Don Grant.
---
FROG HOLLER

The High, High's & The Low, Low's ... (ZoBird)
I've got somewhat of a problem here, and it's not with the quality of the content, it's the quantity herein. These boys from PA write and perform some of the more authentic Americana music out there these days, and this outing is a combination of some new stuff, and some re-worked tunes from their debut CD. They've got a certain knack for producing music that is, paradoxically, loose and informal sounding, but, closer listening informs the listener that this isn't happenstance, it's the result of good, tight, musicianship. Every lick and nuance is there for a reason, and that produces their unique trademark brand of bluegrass/country/blues sound. Now for the ragging; OK, yes, it is only intended as an EP, 33+ minutes long, but, I have to ask, why? Why produce something so short, when we've seen ample evidence that Frog Holler can maintain consistent quality throughout a full-length CD? This one lasts barely long enough to make a trip to the beer store and back. I think that it would have been more fun if they had woven some more new songs in with the old; seen it done before, and these guys could make it fly.
Frog Holler's web site. Order from CD Baby. Released Jan. '05, reviewed by Don Grant.
---
Okay, I was sorta shocked when I first heard the loud "wanker" guitar on this CD. I immediately wanted to blame the "wanker" record company for hiring a "wanker" producer who had worked with not only No Doubt but AC/DC! What had they done to alt.country's best angry young man? Then I listened to the album some more, and I read some of Robbie's comments on the CD, then after a few more listens I realized that I was starting to fall in love with this album, "wanker" guitar and all. It's the songs and his attitude that make me love this guy and that strange tenor voice that comes out on his ballads. What's most important is this CD is truly Fulk's vision, his muse, if you will. And yes, there is some country songs here, and some nice power pop too, thank to Bill Lloyd, and some pretty somber dark songs too. Robbie has the balls to write a song called "God Isn't Real" and yet still mention religious topics on other songs, and refer to god in the liner notes. I say, bring an open mind and some earplugs and listen to a real live artiste.
Best tracks: Let's Kill Sat. Night, Pretty Little Poison (w/Lucinda Williams), Take Me To Paradise, You Shouldn't Have, Can't Win For Losing You, Night Accident. Someone who did a Cat Stevens site has put together a killer Robbie Fulks site with tons of stuff! Released Sept, '98. Reviewed by Bill Frater.
---

ROBBIE FULKS

Couples in Trouble... (Boondoggle/ Bloodshot)

With Couples in Trouble, Robbie Fulks leaps in a single bound from the alt-country ghetto. While his previous albums were largely rooted in the country and western tradition, Couples sketches a defining arc from British Isles balladry to sunshine-drenched pop to fully modern sounds. Some of the best work here even suggest what the dreaded singer/songwriter genre of the seventies might have become. Something of a concept album, each tune here focuses on a couple in, umm, trouble. Be it man/woman, stepdaughter/new dad/, men during wartime or woman/Satan -- you get the idea, not exactly typical settings. Lyrically, the situations are often dark, though while "Brenda's New Stepfather" aims at something even more sinister, "She Needs You Now" aches in its sensitivity. In a nutshell, it is all about how people chose to deal with the roadblocks at life's crossroads. Working again with Steve Albini, the sonic aspects of the record provide the vignettes with appropriate musical settings. Anyone who has seen Fulks perform live has witnessed his gift for sheer entertainment, the guy is a natural-born ham with real stage presence. Couples in Trouble puts his artistic vision on display, at times acknowledging tradition and other times forging music as vital and current as anything on display today.
Released Aug 2001. Reviewed by Blaine Schultz.
---
ROBBIE FULKS

Georgia Hard… (Yep Roc)
With a Robbie Fulks CD's, you're never sure who you're gonna get… There's the "wise-ass and sarcastic yet straight-ahead country" Robbie of his first Bloodshot album Country Love Songs, (with a cover picture of a man taking an ax to his wife). Then there's the "let's try to be an alternative artist with a little less country sarcasm" of Let's Kill Saturday Night, (although still including an in-your-face song called "God Isn't Real"). Then there's the odd 13 Hillbilly Giants and the unexciting Couples In Trouble . But last year he produced an excellent Johnny Paycheck tribute CD called Touch My Heart and that is a great lead-in to the latest Georgia Hard. The cover looks like one of those old 70's Columbia albums produced by Billy Sherrill, who worked with Paycheck and George Jones and Tammy Wynette and frequently over-produced the artists with lots of strings. There's actually quite a bit of straight-sounding songs here with rather "normal" lyrics for Fulks while his melodies are always memorable. He still gets a little goofy here and there with mixed results. He always had a way with a witty song title and here "All You Can Cheat" and "Goodbye Cruel Girl" are also 2 of my favorite songs. The press kit cites Shel Silverstein and Roger Miller as key song writing influences here and I would agree. Fans of Robbie, and there are many hiding out, should be happy with this. Of the 15 tracks, I could dump five of 'em and like the CD more and have a little extra time, but it's still a fine album.
Robbie Fulks site. Yep Roc. Buy the CD from amazon. Released May, '05. Reviewed by Bill Frater.
---