So, how DID it all begin?
In the beginning, (1968, as near as any of us can remember...), while Miriam C. Rice was teaching Children's Art at the Mendocino Art Center, in Mendocino, CA., she began experimenting with natural dyes to make inks for her own block printing art. During that time, she also took a class called "Introduction to Mushrooms", taught by the late eminent American mycologist, Dr. Harry Thiers. Shortly thereafter, always eager to combine the best possibilities of both worlds, Miriam took a clump of sulfur yellow Hypholoma (Naematoloma) fasciculare mushrooms, (click on drawing to the right)

and tossed them into a dye pot with a bit of wool.
Fortunately, (for all of us,) this action resulted in a clear bright lemon yellow dye and lo! "mushroom dyeing" was born!
1972 was a bumper crop year for mushrooms and Miriam experimented with and documented every fungus that she found. She attended all of the mushroom fairs and forays trying to identify the mushrooms she was using, while gradually building up a vast collection of labeled samples of mushroom dyed wool. Many of the weavers and dyers in the Mendocino area of California were caught up in her excitement, continually providing Miriam with new mushrooms for her experiments, as well as creating beautiful fiber arts using the mushroom dyes.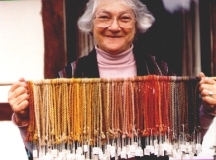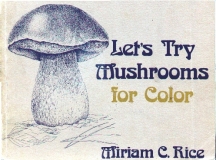 The first book in the world about Mushroom Dyes...
In 1973, a weaver friend encouraged Miriam to show her dye experiments to Thresh Publications in Santa Rosa (a small publisher which had done several little books on spinning, dyeing, and weaving). Robert and Christine Thresh encouraged her to write up her experiences and experiments. While teaching a class in textile arts at College of Redwoods in Fort Bragg, Miriam introduced the concept of using mushrooms for natural dyes. She encouraged the weavers, by using cardboard and other simple looms, to weave entirely with "mushroom dyed yarns". Many of these pieces were photographed and appeared later in her little book.So, the wonderful little book, "LET'S TRY MUSHROOMS FOR COLOR" by Miriam C. Rice, was published by Thresh Publications, Santa Rosa, CA in late 1974, while Miriam continued to experiment further and teach workshops in mushroom dyeing.
Over the next 6 years, additional dye experiments led to a complete color wheel of these lovely natural dyes from fungi, inspired weavers to exhibit their mushroom dyed fiber art, and eventually culminated in a new expanded book by Miriam, published in 1980:
"MUSHROOMS FOR COLOR", Mad River Press, Eureka, CA.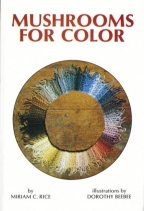 (This book is still in print!)
Word of this groundbreaking new work spread to Sweden, where friends of Dorothy Beebee, Carla and Erik Sundstr&oumlm initated experiments with Swedish fungi to parallel the work of Miriam C. Rice. Eventually the Sundstr&oumlms wrote a book in 1981 "F&aumlrga med svampar", which was published by ICA Bokf&oumlrlag, V&aumlster&arings, Sweden. The resulting enthusiasm by the fiber art conscious Swedes initiated the organization or The 2nd International Fungi & Fibre Symposium, with an exhibit of mushroom dyed fiber art and workshops which was hosted in Stockholm, Sweden in 1983. Soon the interest in fungi dyes mushroomed across Scandinavia, and books on mushroom dyes in Norwegian and Danish started appearing.
In 1984, the Sundstr&oumlms and Miriam collaborated on a new book - a visual celebration of the many lovely mushroom-dyed fiber art pieces woven, knitted, felted, embroidered and crocheted over the previous 10 years of mushroom dye experiments in North America and Scandinavia.
"Skapa av Svampf&aumlrgat Garn" by Carla and Erik Sundstr&oumlm and Miriam C. Rice was also published by ICA Bokf&oumlrlag in 1985.
The three authors then decided to jointly invest a portion of their royalties from this book into the formation of a non-profit organization for educational purposes and the promotion of mushroom dyes. Thus THE INTERNATIONAL MUSHROOM DYE INSTITUTE was established in 1985!
The IMDI was formally established in the USA under IRS Code Section 501(c).
The IMDI was founded to encourage the use of fungal pigments;
to further research on their extraction and employment;
to encourage research on cultivation of dye fungi;
to financially aid artists and researchers to participate in the international symposia and exhibitions.
These commitments are just as urgent in 2004 as they were in 1985!

Continuing projects of the IMDI include compiling a history of the art of mushroom dyeing, papermaking, pigments for the painters, and the Symposia; building a library of research materials based on the work of Miriam Rice and others; and forming a bridge of communication to mushroom dyers all over the world.



We need YOUR contributions as interest in Mushrooms for Color, Paper, and Pigment continues to expand throughout the international community. The IMDI looks forward to your membership and your input to help us to realize this commitment!