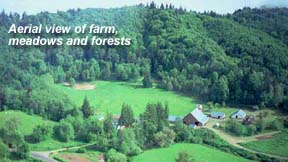 Wild Thyme Farm is a private eco-retreat center near Olympia, Washington. Explore the magical qualities of these 150 acres of forests, meadows, gardens, orchards, streams and ponds for a relaxing ecological, educational and healing retreat. Campus Layout. Rates.

Wild Thyme Farm has 15 buildings including the main house, and several guest cottages. For photos and descriptions see Guest Houses.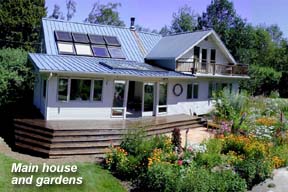 There are three barns, meeting rooms, sauna, large greenhouse, organic flower, herb and vegetable gardens and several orchards.
Pick fresh apples, pears, and plums and graze on tasty blackberries, blueberries, raspberries, salmon berries in season. Meet friendly farm animals, cows, chickens, cats and dogs. View wild ducks and birds visiting the ponds and fields, deer roaming the forests. Hear evening crickets and coyotes softly howling at night.

Enjoy miles of beautiful nature trails in the property's private 100 acre northwest rainforest. Hike wide walking trails and roads from the farm meadows winding up hillsides, over canyon streams, through rich and diverse fir and cedar groves to the tranquil and sunny high pasture with a view of Mt. Rainier. Take a farm tour.

Wild Thyme farm represents an evolving model of permaculture, visionary forestry and biological diversity. It is known as an educational center for permaculture and sustainable agroforestry and participates in a US Government program for innovative wetland habitat restoration. The farm Forest Stewardship Plan has been approved by the Washington State Department of Natural Resources. Over the years, the farm has hosted permaculture, agroforestry, plant medicine and human potential workshops, retreats and weddings.

Main House is an early 1900's era renovated farmhouse. Four bedrooms Balcony Room (1 queen), North Room (2 twin), Cathedral Room (1 triple), Garden Room (2 twin) and two full bathrooms (one with a spa jacuzzi). The upstairs cathedral bedroom and bath has large skylights. A shady front porch and a sunny back deck looking out over the gardens and meadows. Modern kitchen, dining room and living room, washer/dryer. Photos of Main House rooms.

Cider Mill cottage has one bedroom with king bed. Creek House cottage has one bedroom with twin beds. Bunk House by the gardens has two bedrooms - one with a queen, one with twin bunk beds plus a single bed. Spirit Lodge offers a meeting room or extra sleeping space. There are two outdoor showers next to the sauna. Photos of Guest Cottage rooms.

The renovated wing of Big Barn faces West Campus. West Lounge next to the Creek House is a living area with a platform for day beds. The Farm Great Hall has a full kitchen, dining and living room area. These two rooms are separated by two bathrooms and a utility area with a washer and dryer. Photos of West Campus rooms.