The 4th Relo Alaska Iditabike went only 52 of its 200 miles before a friendly mutiny occurred in a remote, windblown cabin at the Big Su checkpoint. After taking more time getting there (25 hours) than winner Mike Kloser spent riding the entire course in '89, the 9 leaders took stock, then quit.
Most were out offood, water, and energy from the long, cold march.
But Kloser was not among them.
He'd already abandoned because of a strained groin muscle-and no one was questioning his toughness.
The Big Su 9 contacted race headquarters by shortwave radio and dared the organizers to make them continue. They dared each other also, but no one returned to the trail.
Dave Ford of Girdwood, Alaska (Icicle Bicycle), the first to arrive at the checkpoint, was poised at the door, ready to go on. But when the rest conceded victory, he was off the hook and declared the winner.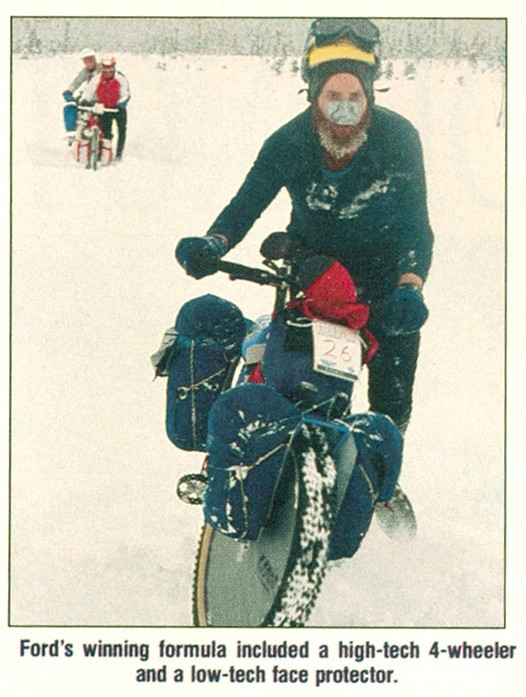 When Soft Is Hard
It would be misleading to call participants in this year's Iditabike "riders." Most pushed their machines for all but a couple of the miles between the start at Big Lake and Big Suo Using a specially designed "quad" snow bike (see photo) Ford may have ridden more than others, but most was in short stretches of 10 or 15 feet.
When the race began, the temperature was zero and light snow was falling. Even though snow machines (snowmobiles to be the uninitiated) had made dozens of passes during the preceding weeks in an attempt to pack the trail, continuous cold temperatures kept the snow light and dry. It was perfect for skiing but horrible for cycling. Dismayed by these conditions, several registrants decided not to saddle up.
Fifty-four did start, including 14 women (up from 4 in '89).
The field contained several promising new faces, among them Ole Silseth (Peugeot), a Norwegian who competed in 2 Tours de France; ultramarathon star Bob Forney (Denver Spoke); Elaine Mariolle (Fisher MountainBikes), winner of the '86 Race Across America; and Patti Brehler (Pavlat's Prestige Cycles), - another RAAM veteran who holds the women's tandem record in the 750-mile Paris-Brest-Paris.
Four of the women were from Fairbanks, and they swept the top 3 places. Winner Gail Koepf (Klein), a 39-year-old mother of 2 and wife of third-place men's finisher Rocky Reifenstuhl, finished eighth overall.
Trail Chatter
Within 1,000 yards of the start, new snow forced everyone off their bikes. A lead group of 6 fell into single file. Meanwhile, most of the women settled into their own groups, and they trudged and pushed while talking cheerfully about everything but the race.
Conversation among the leading men was full of bravado, as riders (Reifenstuhl, in particular) tried to psych each other by expounding on the good time they were having.
Reifenstuhl's bike had a steering shock damper, which kept the front wheel aligned so he could push with one hand on the saddle. To plug his sponsor, every time he saw a journalist he said, "This Klein pushes great. What a design!" But after fatigue set in, conversation sputtered and soon turned to water-that is, who had any?
Water became the secret weapon.
In cold weather, liquid intake is the best protection against hypothermia, and even those who aren't thirsty should drink as much as they can. But under the extreme demands of the Iditabike, water is either quickly consumed or it freezes, especially when the journey between checkpoints takes 3 or 4 times longer than planned.
Snow is everywhere on the route, of course, but it takes time to melt it. Many of the Fairbanks riders carried extremely light, marginally effective alcohol stoves. For them, the melting process proved unbearably long, so some risked their health by drinking from standing water of questionable color and purity. One enterprising rider wore a Camelbak water carrier inside his outerwear. When it emptied, he stuffed it full of snow, which was melted by his body heat.
Walking Wounded
The lead group dwindled and stopped occasionally as riders drank, adjusted clothing, and waited for someone else to assume the chore of breaking trail. Kloser injured a groin muscle and stopped regularly to stretch, but it didn't help. Later, he said, "I was having fun, especially early on, but the muscle was getting worse. I had to think about the rest of the year.
"I didn't want to ruin my season by trying to push too hard." When a snow machine driver told Kloser the trail was no better ahead, he accepted a ride, and in so doing let a few others off easy. It's not so hard to quit when the 2-time defending champion has already done it.
Colorado rider Charlie Tarver (Hub of Aspen) told marshals at a trail intersection, "This is the stupidest thing I've ever done." Someone replied, "So quit." Tarver grimaced, then marched on without looking back.
For Carl Tobin, one of the pre-race favorites, the conditions were particularly unwelcome. Several years ago he suffered serious leg injuries in an avalanche, and walking in deep snow still bothers his knees. Tobin dropped from the lead bunch to the second group, then found himself alone and eventually camped.
An outdoor survival specialist who's already been killed 3 or 4 times (it just hasn't taken yet), Tobin was carrying more water than most, and he reduced his suffering by keeping his fluid intake up. "I finally bivied, and 1 slept for 10 hours," Tobin said. "I was completely comfortable."
Break Point
Between the first checkpoint at Knik Lake and Big Su, Ford gained nearly 15 minutes to join the lead group, which was down to Silseth, Reifenstuhl and Eric Breitenberger. Just before the checkpoint he moved into the lead as Reifenstuhl assisted the Norwegian, who was suffering from frostbitten feet. At the checkpoint all the leaders declared their mandatory 6-hour break while they thawed, rested, and hoped the
Weather would change.
Forney, the other entrant on a quad bike, decided to take his mandatory rest at Knik Lake, only 12 miles in. He figured the trail might firm after his rivals exhausted themselves pushing through the soft snow. "It's a gamble," he said, "but I can go 24 hours straight if I have to." The gamble almost worked, because once Forney arrived at Big Su, his accumulated time put him into a virtual tie with Ford. But while both had taken their mandatory rests, Ford was just finishing his and Forney was exhausted after pushing for 12 hours. If they'd continued, Ford would have been fresher. When the riders agreed to give Ford the victory, Forney said he'd be happy with second, though he later professed second thoughts.
Many competitors credited Dan Bull, who created Iditabike 4 years ago and sponsors the race through Relo Alaska, his moving company, with being the steadying presence on the route. After months of trail-breaking on his snow machine, Bull planned to compete. But after studying the weather and conditions leading to race day, he decided he'd better help patrol the course.
After arriving at the Big Su cabin and talking to the exhausted leaders, Bull radioed headquarters to recommend the race be ended. While Ford waited at the cabin door, ready to continue if so ordered, the directors agreed to accept the results requested by the racers. Once that decision was made, Bull returned to the trail to locate riders still on the course. He arranged evacuation for some and let the hardier push on to Big Suo By normal standards, the airplane and snowmobile evacuation of a few dozen riders would be an emergency procedure. But the Iditabike doesn't operate by normal standards. A $50 evacuation charge is built into each entry fee, with the promise that it will be returned if not used. After camping on the trail overnight, many of the Iditabikers chose to ride back and save the money.
Perhaps the most unexpected result was that of Gail Koepf. the only woman to reach Big Su before the race was shortened. Her winner's share and her husband's third place money totaled $2,750-surely enough to pay the babysitter for the weekend.
When competitors arrived at race headquarters at Big Lake Lodge, many had the "Frankenstein walk," a stiff-hip, stiff-knee stagger produced by hours of laborious hiking using muscles conditioned for cycling.
Ironically, the Iditabiker who might have had the best chance to win under these conditions, 2-time veteran Roman Dial, didn't compete. Besides being an excellent cyclist, Dial has a reputation as a tough hiker who is willing to carry his bike for as many miles as it takes. After hearing about the race, Dial lamented, "I wish I were there now. For $2,000 I could walk to Nome."
Extreme Commitments
Even though the Iditabike is a tiny race in terms of the number of riders and spectators (none, for the fourth year in a row), it draws attention from around the world. This year there were representatives from the British Broadcasting Corp., a Seattle TV station, and cycling magazines from 5 countries.
The reason for the limited participation and great media interest is the same: the Iditabike represents the extreme of what is possible on a bicycle. And like a group of mountain climbers who failed to reach a peak because of foul weather, the Iditabikers reacted to the terrible conditions by reveling in the camaraderie and magnificence of the course. Still, the prevailing sentiment at the finish was of a job not quite completed.
After 2 victories and a second place in 4 tries, Kloser has little more to gain from riding again. But he epitomizes the Iditabike spirit. After resting a few days and digesting the event, he said, "If the sponsorship is there, I'd like to come back for a fifth attempt. I've prepared for it every year for the last four, and at this point in my life I don't know what I would do from October to January if I wasn't getting ready for the Iditabike." .