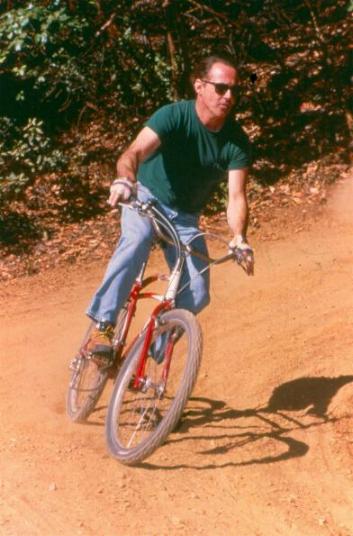 During the mid-seventies, Alan Bonds shared the house at 32 Humbolt Street in San Anselmo with Gary Fisher and me. Even before he met us, Alan had become interested in doing clunker conversions, and after he moved in, our house became the center for all such activities in San Anselmo. Alan won the first Repack race on one of his bikes, and the bikes he made for himself and sold to a few of his friends were the epitome of an art form that lasted no more than a couple of years around 1976 and 1977. Fortunately, Alan photographed some of his creations, and here they are, the most classic "clunkers" ever built.
This photo is from the 1996 20th Year Repack Anniversary race.
Alan's own website is clunkers.net.
Alan on Repack, 1976