| | |
| --- | --- |
| NORBA History | BACK to the Mountain Bike Hubsite |
The National Off-Road Bicycle Association, commonly known as NORBA, was formed in the early months of 1983. It had become evident as the number of riders grew at every race, that if mountain bike racing were to expand beyond a few races among friends, a consistent set of rules and insurance to protect promoters would be necessary. If a national championship were ever to be awarded, some national organization had to exist in order to declare a champion.
By 1983 several off-road race promoters had established themselves in California. I had started with Repack, and had done a few cross country races also. In Santa Rosa, Tom Hillard had promoted the Punk Bike Enduro, Glenn Odell promoted the Central Coast Clunker Classic in San Luis Obispo, Victor Vincente put on Puerco! and Reseda to the Sea in Southern California, and Gary and Bonnie Larsen promoted the Whiskeytown Downhill in Redding. Other than in Crested Butte, we in California were not aware of any other efforts to promote off-road racing, so it seemed that as far as any national organization was concerned, we were most of the people who needed to be involved.
Jack Ingram of Panda Bikes got the ball rolling by asking a few of us to a meeting at his house in the East Bay. There is no record of that meeting, because everyone sat around and talked about what we should talk about, but no one had been selected to take minutes.
Despite the unstructured nature of the meeting, several decisions were reached at that time. We selected a secretary to record our activities, we determined some of the first goals that needed to be met if we were to organize ourselves, and we started kicking around names for our organization. We also determined that if most of us lived in Marin County, it made more sense to meet there than it did for the majority of the group to travel 40 miles to a meeting. The next meeting was to be held at my house in Fairfax, and when it took place on January 27, 1983, someone was taking notes. Here they are:
Any organization requires a statement as to the purpose of the organization, and I was chosen to write it. Here is what I came up with: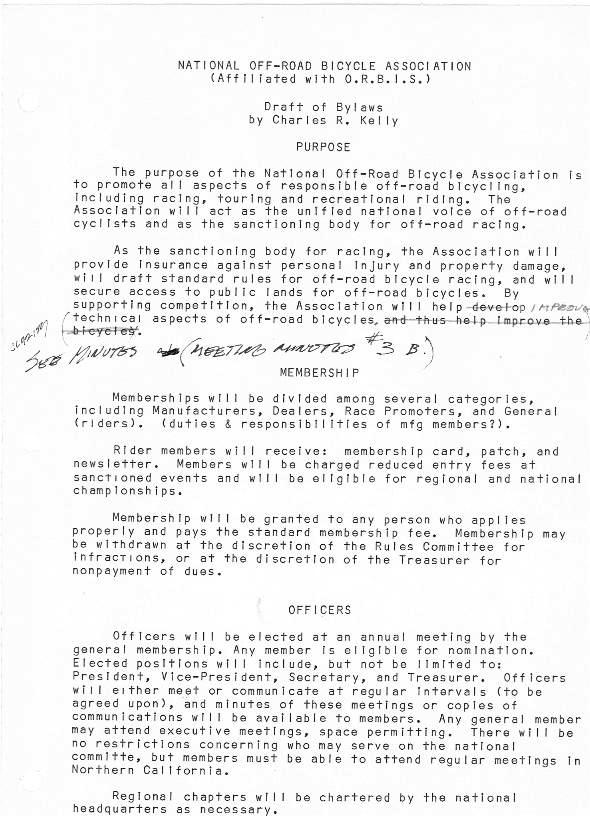 By the time our third meeting took place, Joe Breeze had designed several logo concepts for our approval. As you can see, the logo we selected that day is still in use.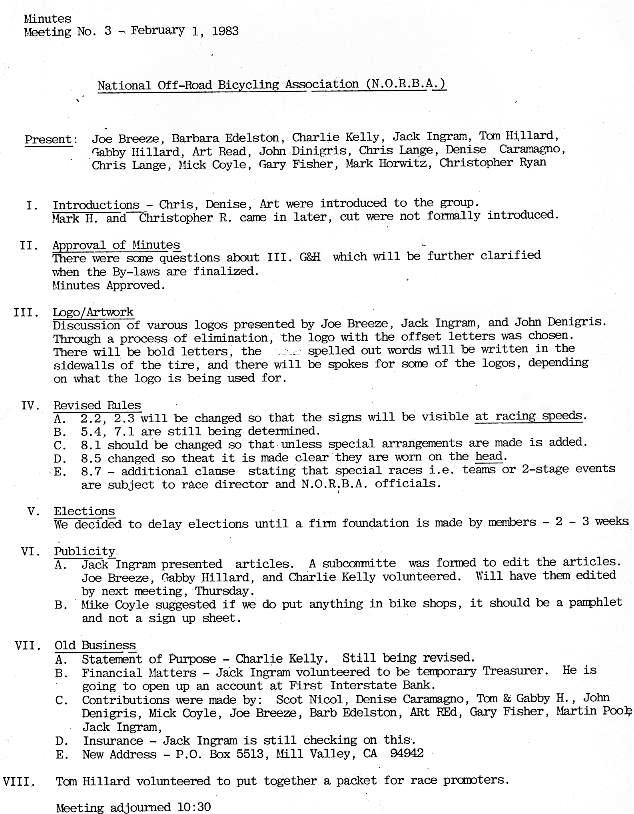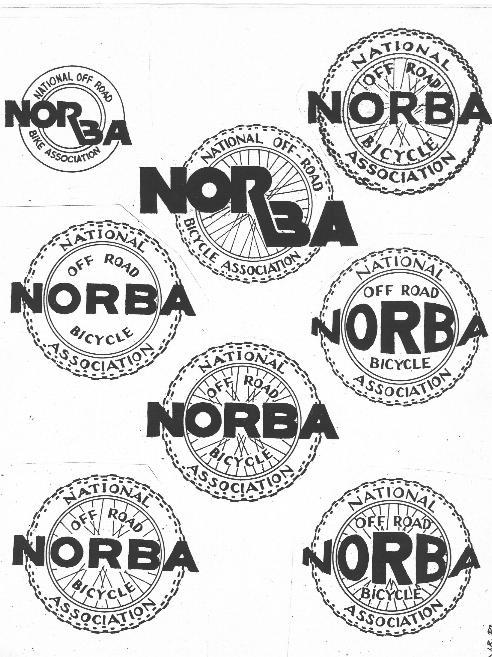 Here is the sample sheet Joe Breeze submitted for our logo. We chose the one at center top, and it is still in use by the National Off-Road Bicycle Association.
This history of NORBA is a work in progress, and I will add to it when I get the notion.