Dave Bohn did the 1981 ride poster.
I can still recognize most of the riders on the 1981 Appetite Seminar below. That wouldn't last much longer.


The crowd of cyclists who showed up every year on Thanksgiving virtually took over the town as they orbited the theater while waiting for the start, and eventually we came to the attention of the local authorities. One Thanksgiving morning a couple of Fairfax's finest showed up in an attempt to at least keep the streets clear enough for automobile traffic to get through. "Who's in charge here?" one of them demanded of no one in particular. A few people looked at me, and I tried to look at someone else.
At that moment I relinquished any responsibility for the ride. It had a life of its own, and didn't need a leader, since everyone knew the route and the date, and I didn't feel like answering difficult questions. No one else has seemed to want that responsibility either, so it remains a leaderless event.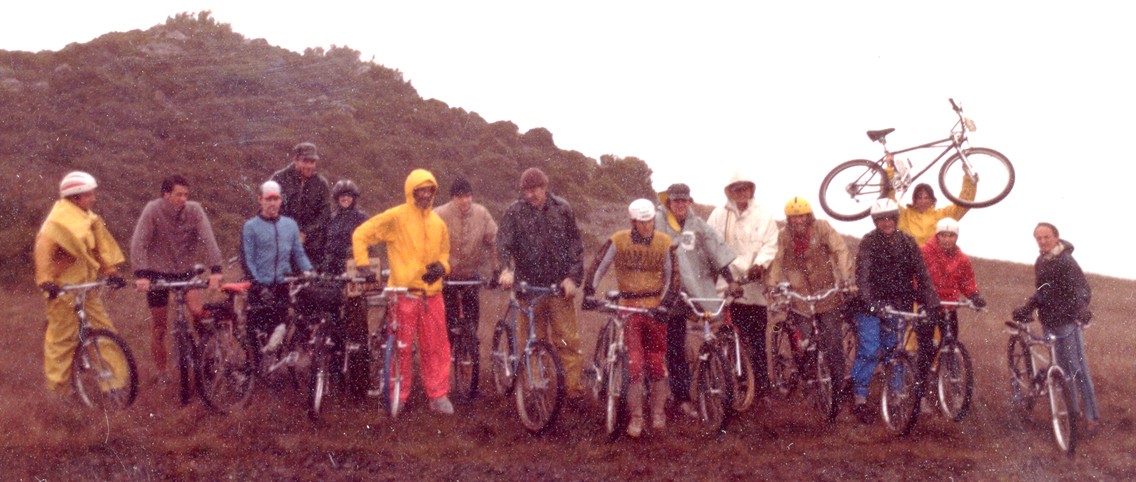 I'm not sure which year this was, probably 1983 or 1984, but these are the riders who went in the rain. I'm in the middle with the blue bike.
My last vestige of leadership took place some time in the '90s. I showed up in Fairfax as just one member of a crowd that by now was several hundred riders. I figured that since most were not locals, I would just pick out a few of my friends and we would sneak out the back of the parking lot, through the alley, and down a side street to leave ahead of everyone else and avoid the big crowd. Five or six of us took off as unobtrusively as possible, and as I hit Dominga Avenue I looked back at my few friends, only to see that everyone who had been in the parking lot was now right behind me, and I was at the head of a major parade!
Due to changes in the arrangement of the parking lot where we used to meet, the mass of cyclists is now spread over a larger area, and riders show up and leave in small groups over a period of a couple of hours. No one is in charge, and no one needs to be. It just happens.
For those who live outside the area, the Seminar is just a reasonably tough ride with a few hundred like-minded folks, but for the locals who have taken part for years, it is a traveling party, with well-known stopping points. You can ride it in a couple of hours if you want, but on the most recent Seminar as I write this, I took over four hours to complete the loop, and I spent more time sitting next to my bike than sitting on top of it. There are a lot of places to stop and a lot of reasons to stop.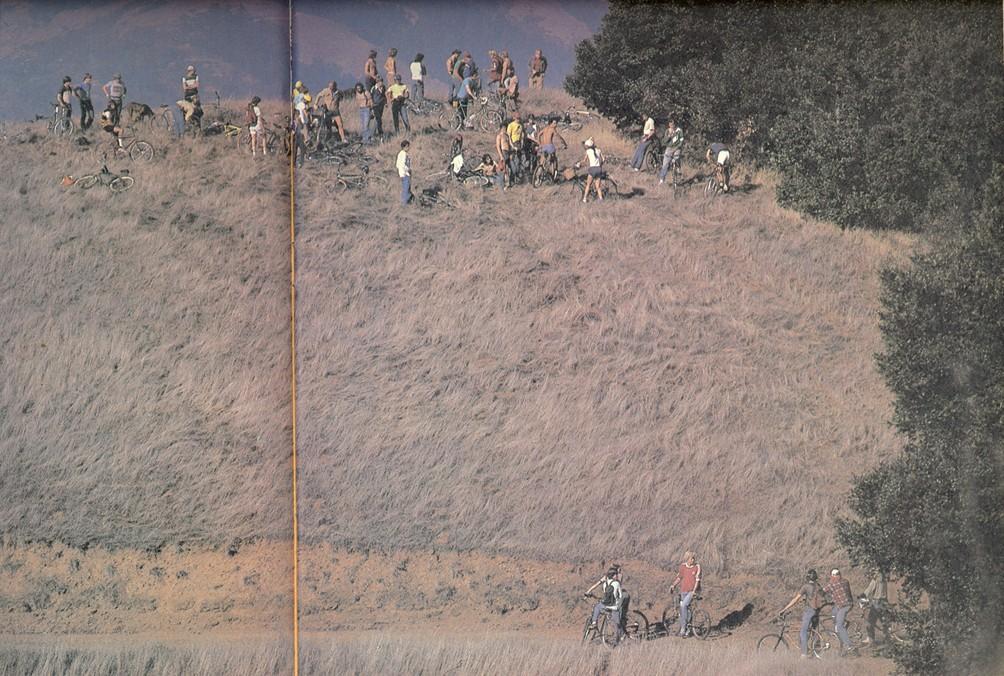 This photo was taken by Dave Epperson on the 1980 Appetite Seminar and published in Bicycling magazine. I have enlarged a section of it below.
This was Jacquie Phelan's first contact with mountain biking. You see her here pushing her three-speed, with basket, that she had ridden over from San Francisco. She is about to meet me for the first time, as I'm standing in the group she is approaching, wearing the yellow t-shirt. Next to me is my brother Jim (no shirt) and Denise Caramagno. At the top of the hill, wearing a blue jacket and a knit hat is Gary Fisher.