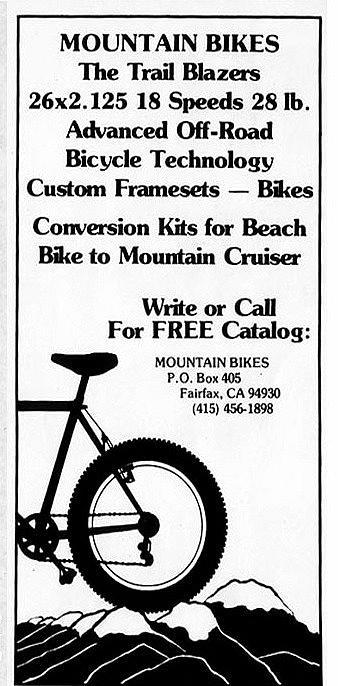 Once upon a time, if you owned a Mountain Bike, it meant only one thing. You owned a bicycle built on a Tom Ritchey frame, assembled and sold to you by Charlie Kelly and Gary Fisher out of their little shop in a rented garage at 1501 San Anselmo Avenue in San Anselmo. There were other off-road bikes, called the ProCruiser, Trailmaster, Breezer, Mountain Goat and Topanga, but there was only one "mountain bike," and we built and sold it, so no further identification was necessary.
Left: our first ad, from the February 1980 BMX Plus!
The name we coined for our business has become the generic term for these bikes, just as every popular off-road bike introduced onto the market for the next five years or so was designed directly from those bikes. It is unlikely that any single style of bicycle has influenced the cycling industry so completely since the introduction of the safety bicycle in the last years of the 19th century.
The term "mountain bike" first appeared in print in the December 1979/January 1980 City Sports. as "MountainBikes," the name of our company. The article was written by Darryl Skrabak after the 1979 Appetite Seminar on Thanksgiving Day.
In January 1980 Bicycle Motocross Action printed an article about the crazy Marin County riders. A photo of Gary holding his bike mentioned that he called it a mountain bike.
Dean Bradley reviewed the Ritchey bike in BMX Plus! (spelling the name wrong consistently), and we took an ad in that issue, February 1980, our first advertising. In the ad, we just called ourselves Mountain Bikes.
This article from a 1981 issue of Action Now, also by Dean Bradley, comes right out and says that there was only one "mountain bike."
By December of 1981 the trade magazine National Outdoor Outfitters News noticed us.
Although Gary Fisher and I were fulltime and passionate cyclists and roommates for about five years, we got into the bicycle business strictly by accident. In 1978 I took delivery on Breezer #2, just the second bike built from the ground up to be a mountain bike. At the time Gary was still riding his converted Schwinn Excelsior, but it was obvious to all of us in the Fairfax-San Anselmo bike crowd that custom off-roaders were what we needed in our lives, and we didn't really care whether the rest of the world rode them, because we rode them for ourselves anyway.
Gary talked to his friend Tom Ritchey about getting a custom off-roader. Tom was then only 21 years old but was already the most prolific frambuilder in the country. Tom could put together a frame in an afternoon, compared to Joe Breeze, a frame building hobbyist by comparison, who would take months on a production run of ten bikes. Since Tom worked with brazed lugless frames and was not limited by available lug sets, he could put together a bike with any angles or tubing sizes, and he had already seen Joe's bikes and had talked to Joe about what Joe had learned from building them. Gary added his own ideas to the mix when he ordered his bike, and in the spring of 1979, Gary took delivery of his Ritchey off-road frame, one of a production run of three. Another frame went to a Fairfax rider named James MacWay, and Tom kept the third.
Several months went by, and during that time we were visited by a writer and photographer from a magazine called Bicycle MotoCross Action, who were following up rumors of some crazy Marin County hippies who were practicing a new form of big-bike, off-road BMX. At the time a new 26-inch "cruiser-class" was first apearing at the BMX tracks, and the BMX magazines were finally becoming interested in covering stories about bigger bikes. In the resulting article a photograph of Gary appeared, in which he was holding his Ritchey over his head to demonstrate its lightness. The caption mentioned that he called his bike a mountain bike, a term that had first been tossed around during the photo shoot when we tried to explain to the BMXers the difference between a one-speed "cruiser" made for a downhill BMX track and a real, multiple gear "mountain" bike that could go up as well as down. To my knowledge, this is the first printed appearance of the term.
A few months after Gary got his frame, he had a call from Tom. Tom had built nine more frames, but since he lived some 40 miles from Marin County, he didn't ride with our crowd and didn't know anyone himself who might want to spend ungodly amounts of money on a funny bike. He asked Gary if Gary wanted to take them back to Marin County in case there might be one or two riders there who didn't already own one of the thirteen custom off-road bikes then in existence.
So one afternoon in September of 1979 I rode my bike down to the little one-bedroom house in Fairfax where Gary was living after he moved out of the house Alan Bonds and I still shared at 32 Humboldt Street in San Anselmo about a mile away. Gary took me out in the parking lot his house shared with Celoni's Liquors and popped open the trunk of his battered old BMW. Wrapped in some moving pads he had borrowed from me that morning were nine beautiful frames. Gary told me that Tom had no way to get rid of them and had said that if Gary could sell them, he could pay Tom when he collected the money. Gary asked whether I wanted to help him assemble and sell them. Why not? No company was ever funded on a looser definition of our roles.
In a scene that is almost a cliche, we dug in our pockets to see how much cash we had between us at that very moment. It was a few hundred bucks. We took it down to the bank and opened a checking account. The name we chose for our checking account seemed obvious: Mountain Bikes. We had a name.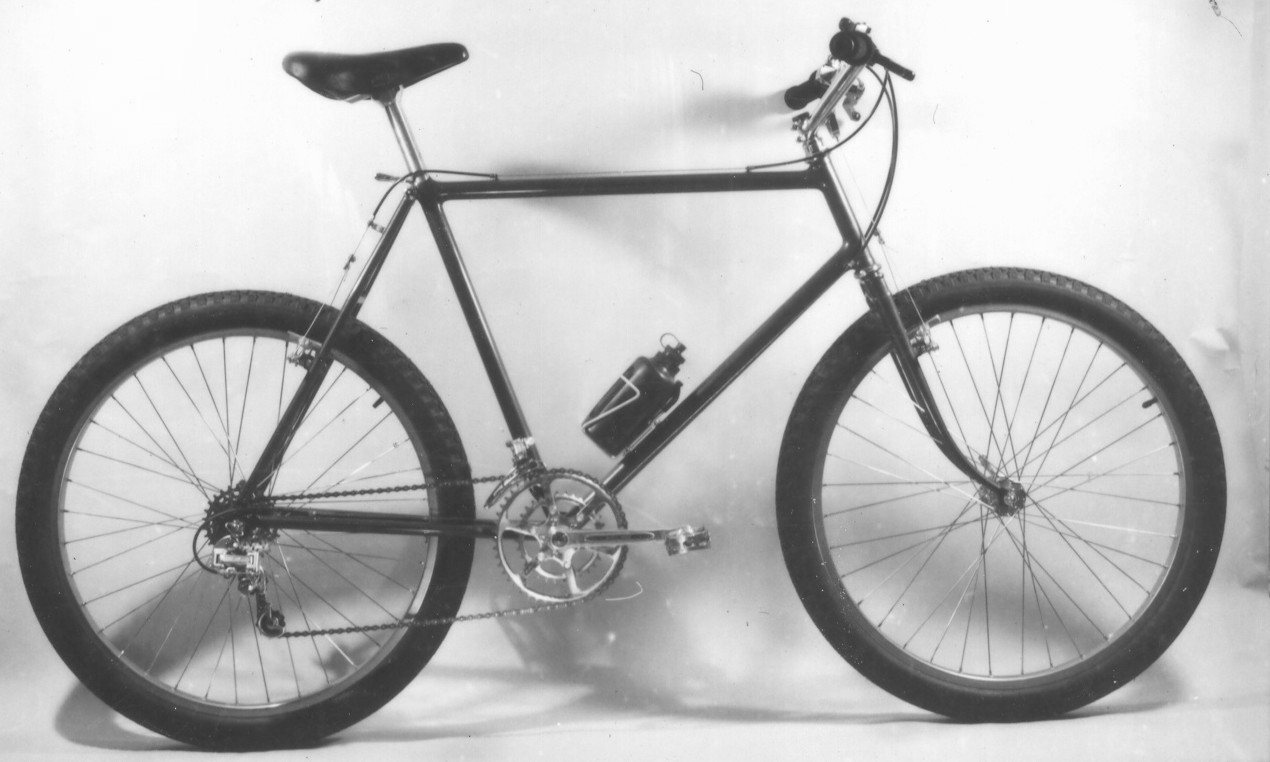 This is one of the nine bikes that Tom advanced to Gary and me that became the founding of the company.
This was a 1/12 page ad in Bicycling in May, 1981. I don't remember what it cost us, but it seemed pretty expensive at the time.

That issue of Bicycling featured Tom Ritchey on the cover riding one of our bikes and there were several stories inside about the new type of off-road bike, so the ad department leaned on us a little to take out some space.

As you can see, "Mountain Bikes" was the name of the company, and our product was simply called a "Mountain Bike." At the time no other distinction was necessary, since only our company and our product were known by that name.