Joe Breeze has compiled the all-time Repack statistics. I have posted them here for your research or amusement. At the right is his hand-drawn map of the course. Click the image to see it full-size.
Repack ended in 1984, after 91 racers, the biggest field by far, descended on the course in the NORBA sanctioned event. Downhill racing is a worldwide sport now, and Repack links the underground racing of the past to the major sport it is today. It is fitting that the first sanctioned downhill races were the last two Repack races.
The history of downhill bicycle racing starts at Repack, and here are the records of that birth.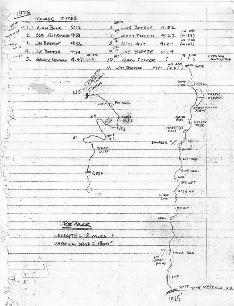 (Click image to see full size)