---

Enter the Farm
Gardens
Big Barn
West Campus
Low Meadow
Cow Pasture
Forests
High Meadow
Aerial Views
---
Directions & Map
Flyover Movie
Google Earth
---
West Campus

Afternoon Sunset on the West Campus, May 2009.

Snowy Morning on the West Campus, March 2009.
Big Barn and Silo, Wood Showroom, South Barn, West Shed form the West Campus.

The apple, pear, plum and peach orchards and lawns in back of the West Campus buildings.
---
ARCHIVE PHOTOS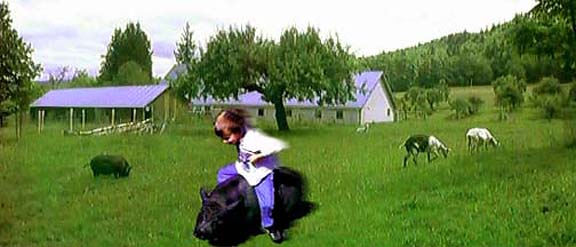 In the old days (1998), Erik rides Miss Piggy as three goats wander behind the barns and orchard.