---

Enter the Farm
Gardens
Big Barn
West Campus
Low Meadow
Cow Pasture
Forests
High Meadow
Aerial Views
---
Directions & Map
Flyover Movie
Google Earth
---
Forests

Before the leaves fill out in the spring, the farm buildings are visible from the hillside trails.


The original timber roads were overgrown with alder trees, bushes and fallen timber. Over time John cleared the trails with machete, shovel, chain saw, brushhog and bulldozer.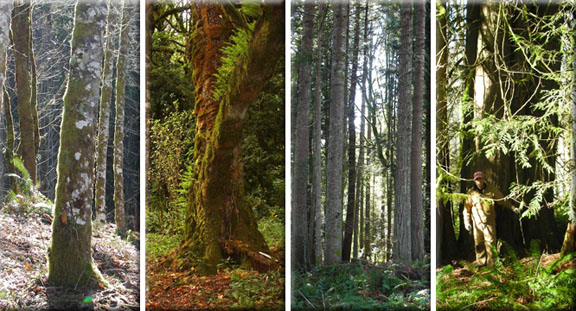 Wild Thyme Trees 1) Red Alder 2) Big Leaf Maple 3) Fir and Hemlock 4) Western Red Cedar.

---
ARCHIVE PHOTOS
Miles of roads weave through the hills and ravines. Roads are mowed, becoming grassy pathways.