Windintide
Edmunds, Washington
Stephen Nemtin, Architect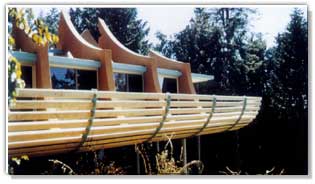 The home of Richard and Erin Weight is a grace to the landscape, and the natural beauty of the site permeates the house. Perched on a bluff thick with evergreens, it overlooks the blue waters of Puget Sound.
The sweeping branches of a giant sequoia that hover over the house gave inspiration to the design. The poetry of their form is captured in the curved fins that support the roof. The Sound becomes a presence in the home and is intimately connected to it by a cantilevered balcony that soars over a natural ravine. This balcony wraps both wings of the house and extends the interior space outdoors. Despite the dynamic aspect of the cantilever, the house maintains a sense of serenity and quiet repose.
While the home provides a snug shelter from the elements, through the imaginative use of glass, nature is invited inside. From every interior space one has glimpses of sky, forest and water, with each view framed differently. A continuous skylight brings in daylight.
Careful siting allowed the house to be built without the need to cut down trees. Cedar siding blends harmoniously with the bark of the evergreens. Natural cross ventilation obviates the need for air conditioning, and radiant heating in the floor makes the home comfortable in winter. All the floors are Brazilian cherry. The warmth of this rich wood further unifies interior space.
---